Online Run and Strength Coaching
To Run Your Personal Best
"If you don't train by design, you are just exercising"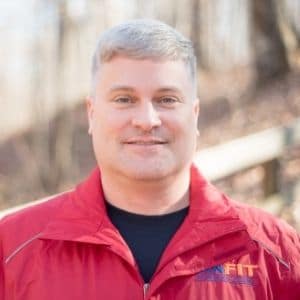 Steve Carmichael
NASM Certified Personal Trainer
USA Track and Field Certified Coach
RRCA Certified Running Coach
Hi, my name is Steve Carmichael.
I am a NASM Certified Personal Trainer and Certified Running Coach who helps people, just like you, design and execute a personalized and comprehensive training program that includes running, strength training, mobility, injury prevention, nutrition, mindset, and more using evidence-based, practical, and pragmatic training. 
Training with me is MORE than just getting a custom training schedule and workouts. Everything you need for total body fitness and wellness is included!
You will blast past your training plateaus and limitations, regardless of your age, busy schedule, experience level, and current fitness ability.
For over 10 years now, I have helped hundreds of athletes worldwide bring out their best performance and reach personal health and fitness goals.
Why work with me?
Your true potential and success come from more than a training plan or 'app'. Those are generic regardless of how they want you to feel they are matching your 'experience level'.
If a running schedule is all you are seeking, I am not the best coach for you. Yes, I will write you a 100% customized training plan, but reaching your potential is much more than that if you want to improve. I mean really improve.
I didn't just take a 'weekend certification course' or online seminar to become a running coach. Since 2011, I have attended dozens of advanced running and fitness clinics and attended seminars from some of the world's best coaches and trainers.
I don't just download and send you a bunch of YouTube exercise videos and call that "strength training". Instead, I got certified with the National Academy of Sports Medicine which offers one of the best certifications out there so I can set up periodized strength training programs and then modify them over time.

I never stop learning. In fact, I am currently working on obtaining my Certified Strength and Conditioning Specialist certification through the National Strength and Conditioning Association which is like the personal trainer certificate on steroids and is needed to coach college athletes.

Every. Single. Weekend, I am out on the local track coaching middle school, high school, and adult athletes through my sports performance training company, Run For Performance. With RunBuzz, you can now work with me online.

To improve as a runner, we will go beyond running more miles and throwing in the occasional track workouts or hills. We will work on other aspects of you. Nutrition, mindset, strength training, positive lifestyle habit change. Everything together works to make you a stronger, healthier athlete. You are an athlete even if you don't feel it yet.

You don't have to be perfect, or get it right on the first day. But, you need to be willing to work on these things if you want to see the best results.

I only work with people who want to:
Eat better

Feel better

Sleep better

Train better

Get stronger
Is that you?
I am invested in your success
You are my priority. It sounds cliché, but I am not doing my job if I can't get you the outcome you desire. You must bring the same passion for change and a willingness to do the work as I bring to my coaching. You may not always feel like it. That is OK. We all have off days. But you must be coachable and trust the process.
During our Zoom sessions, we will discuss your health and fitness goals as well as your struggles. We will celebrate your successes. And, together we will work to remove any obstacles, barriers, and excuses that get in your way.

For example, if you having a hard time getting your workouts in, running at a certain pace, dealing with nagging injuries, or eating healthier, we will dig deep into why that is and I will help you come up with a strategy and solution to fix it.

During our sessions, we will dig into your training, goal setting, nutrition habits, injury prevention, sleep management, stress management, and whatever is needed to build the pillars of success.

I guarantee that you will feel like an athlete, a runner, and a stronger person. And, if you do the work… results!

Again, this is more than just 1:1 run coaching. This is TOTAL FITNESS COACHING!
Are you ready to invest in your potential and get started?
If you are ready to get started, simply let me know by filling out the application below. If you still have questions, fill out the application and we can jump on a call, or answer any questions you may have. 
1:1 Coaching Packages
Every other week
This package is best for people who feel they have a good sense of self-accountability and follow-thru and thus prefer to meet every other week.
$129.00 USD / month (not a subscription. I invoice each month in advance)
What is included
1:1 Zoom session every other week
Unlimited text/email support
Custom training plan and modifications
Video Form Analysis and Correction – As needed
Custom strength plan and modifications
Nutrition guidance
Injury prevention guidance
Performance mindset guidance
Positive habit/lifestyle guidance
Flexible payment options available
Discounts available for prepaid payments at 3, 6, and 12 months as well as 10% discount for military and first responders.
Weekly
Weekly sessions provides the highest degree of success and accountability. Meeting frequently helps you deal with struggles as they come up and helps speed up positive lifestyle changes and healthy habits.
$199.00 USD / month (not a subscription. I invoice each month in advance)
What is included
Weekly 1:1 Zoom sessions
Unlimited text/email support
Custom training plan and modifications
Custom strength plan and modifications
Video Form Analysis and Correction – As needed
Nutrition guidance
Injury prevention guidance
Performance mindset guidance
Positive habit/lifestyle guidance
Flexible payment options available
Discounts available for prepaid payments at 3, 6, and 12 months as well as 10% discount for military and first responders.
I only take a few clients at a time so I can focus 100% on your success. If interested, please contact me here.
Frequently Asked Questions About 1:1 Coaching
How often will we meet ?
I offer weekly or alternating week sessions by Zoom, depending on which coaching package you select. Each Zoom call can be up to one hour in length. Beyond these dedicated sessions, you will have direct access to me by email and text. In some cases, we may even jump on a quick call.
How do I see my workouts and track progress?
I use Final Surge software to post workouts and view your activity. Final Surge can track workouts via Strava (if you like to use Strava) or Garmin Connect. It is super easy. They even have their own phone app in case you don't have a running watch or want to see your workout details and instructions on the go. 
Is this part of your PaceBuilders training program?
No. The PaceBuilders training program closed in 2020. That was a group coaching/team coached training program that was super successful. However, it was super time-consuming to operate. While it had a 1:1 component for some, this premium level of coaching is far more involved than what I offered inside PaceBuilders. With this program, you will work directly with me and you will have way more access to me, including my phone/text number and Zoom meetings which were not part of PaceBuilders.
Can you help me with my running form?
Yes. I can show you how to use your cell phone to take video and then use the video you record to show you your running form via slow-motion video analysis using special software to analyze your running form, but also muscle imbalances and strength. We then review your results and I prescribe drills to help correct any areas that need improvement.
Can I train for a 5k, half marathon, or marathon? 
Yes. I can customize your training to any race distance up to 50k. 
Do I have to be a runner?
No. As long as you are active and focused on movement I can help. If you want to get back in shape again but are struggling to make it happen. I can help. All guidance in areas of cardio/strength training, habit creation, general nutrition, weight loss, or weight management, will be customized to you and your personal situation. This is total fitness coaching, not just run coaching.
When it comes to nutrition, do you recommend any particular diet?
No. I do not believe in low-calorie, highly restrictive diets. Instead, we will focus on making better food choices and fueling properly for your activity level, based on real food. If a medical condition is present, I will refer you to a dietitian. We can work on fueling, hydration, and weight management/weight loss without diets. You need to fuel properly to perform properly, and when you do, weight management can be achieved.
Can you help me with running form, stride, and cadence?
Yes, I use special software that can slow down and analyze your running form. I can walk you through the process of how to use your phone to capture your running and walking from several angles. In under 10 minutes, you will have what you need to send me.
Can you help me with speed drills and track workouts?
Yes, however, there is a time and place for it. The initial focus will always be on building a strong running base BEFORE speed training is initiated. If you have that base, I will introduce hills and speed as appropriate. 
Do you use perceived-effort-based training or heart rate training?
For most runners, I use effort-based or perceived effort training (hard, easy, comfortably-hard, etc). In some cases, I will recommend heart rate training.
How often is my training modified or updated?
We update it together during our Zoom sessions. Between Zoom sessions, I may modify your training program based on situations that come up during training. This way your plan evolves and adapts as you do to ensure you aren't stuck in a static plan that is outdated a few weeks in. (This lack of adaptation is a major problem commonly found with free Internet or book plans.)
I want to work out with a family member or friend. Do you offer family plans or small group plans?
Yes, I can customize coaching plans to handle any number of people. This includes adjusting fees. Please contact me for more details.
Is there a contract I need to sign?
No contract. There is a standard liability waiver that needs signed stating that you are healthy enough to participate in an exercise program.
I have a race coming up in two weeks. Can you help?
I can, but keep in mind that significant progress can not occur in just a few weeks. Consistency over time along with structured training and nutrition is what it takes. However, we can work on race strategies for your race and make sure you taper appropriately.
Can I work with you for just one month?
I can, but I don't recommend working with any coach, myself included unless you are willing to invest a minimum of 3-6 months. Running performance, strength development, positive habit change, etc. takes consistency and time, and very little will happen in one month. A single month can help you with your running questions but won't be enough to train in any significant way.
Can I just hire you to write a training plan?
No. I only coach within the packages described on this page. Most training plans are outdated after a few weeks anyway. You will either fall behind or the plan won't challenge you the way it could if someone modified it for you.
How am I billed? 
You will not have a recurring subscription. When you decide to start coaching, I will send you an online invoice. Once the invoice is paid through our secure payment provider's portal (Square Inc), you will be scheduled for your first session.

Your coaching starts on the date of your first session.
Then, the following month, I will send out an invoice 7 days before your next month's due date.
For example, if you sign up on the 21st of the month and our first session is on the 22nd, all following due dates will be the 22nd of each month in the future if on a monthly billing cycle. You will receive your invoice 7 days in advance.
Do you offer military and first responder coaching discounts?
Yes. I take 10% off for active and reserve military, police, fire/EMT personnel (and nurses). As a veteran-owned business myself and a big supporter of first responders, I want to help make coaching more affordable and encourage you to reach out. Thank you for your service.
I need help passing my military PT test (and/or Police/Fire fitness tests). Is this something you do?
Yes, I have significant experience training our armed forces and Police/Fire members for their fitness and PT tests. I have even trained recruits as they prepare for basic training and special forces entrance tests.
Do you offer coaching discounts for longer-term prepaid engagements?
Yes. I take 10% off when you pay 3 months, 15% off if you pay for 6 months, and 20% off if you pay annually. All fees must be paid in advance.
Why do you require a coaching application?
A coaching application allows me to collect some basic information and helps me reach out to you. It also helps me avoid spamming from web crawlers. Think of it more as an enhanced contact form.
What happens after I submit my coaching application?
I will get back to you within a few hours to make an introduction, answer any questions that you may have, and if ready, start the onboarding process.