Description
Not Gluten No Guilt
All you need is a couple bowls to whip up an almond coffee cake you could find in some of the best gluten-free bakeries. Coffee cake is traditionally eaten at breakfast, but this recipe is perfect any time you are craving something sweet but don't want to overload your body with refined sugar and white flour.
Its delicate texture makes it a satisfying dessert, and with easy to digest ingredients, you could even enjoy some of it an hour before a run for a sustained release of energy from the ground almonds.
Ingredients That Nourish
Gluten-free baking does not necessarily mean healthy. But with this recipe, you get a good punch of nutrition along with delicious flavor.
The eggs and almond flour provide a lot of nutrients including protein, choline, B vitamins, vitamin E, fiber, and more. The coconut oil and coconut sugar do not actually lend a coconutty taste to the cake, unless you are using unrefined coconut oil.
Instead, they add richness, and a rich flavor between brown sugar and caramel. Feel free to use brown sugar if desired, but if you can get your hands on coconut sugar, you might decide to substitute it everywhere.
And finally, the cornstarch is needed here to boost the volume and structure of this Almond Coffee Cake. Some cornstarch brands aren't certified gluten free. If you have celiac disease or need to steer clear of gluten, sourcing a band with no cross-contamination is your best bet.
The Icing on the Cake: A Delicate, Crunchy Crumb
Put simply, this cake is amazing on its own. But if you want to take it to the next level, don't forget to make the cinnamon oat topping. It will add a pleasant crunch to the moist and delicate cake, and impart the small touch of spice that most people will expect from a coffee cake.
Do you track your meals using MyFitnessPal?  If so, simply scan the following barcode to quickly enter your item into your food tracking: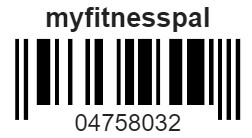 ---
For the cake:
3 eggs, room temperature
3 tablespoons almond milk, unsweetened, room temperature
4 tablespoons coconut oil, melted
2 teaspoons vanilla extract
⅓ cup coconut sugar
2 cups (240 g) almond flour
4 tablespoons cornstarch
1 tablespoon baking powder
For the crumble:
1 cup oat flour
2 tablespoons coconut oil, melted
3 tablespoons coconut sugar
1 teaspoon ground cinnamon
1 teaspoon vanilla extract
---
Instructions
Preheat the oven to 350°F (170°C). Line a 8×8 inch baking tray with baking paper.
In a bowl, whisk together the eggs, almond milk, coconut oil, vanilla, and coconut sugar. Add in the almond flour, cornstarch and baking powder. Mix until combined, and press the batter into the lined baking tray.
Make the crumble topping. Combine the crumble ingredients in a small mixing bowl until crumbly. Sprinkle the topping evenly over the batter in the baking dish.
Bake for around 35 minutes in the oven, until a toothpick comes out clean. Allow to cool completely before slicing.
Store the cake in an airtight container on the kitchen top for a couple of days. This cake also freezes well for up to 3 months.
Prep Time:

10 minutes

Cook Time:

35 minutes

Category:

Dessert
Nutrition
Serving Size:

12

Calories:

219 grams

Fat:

16 grams

Carbohydrates:

14 grams

Fiber:

3 grams

Protein:

7 grams
Keywords: healthy, almond cake, almond coffee cake, runner friendly recipe, recipes for runners, healthy dessert