Description
Move over, store-bought fish fingers full of additives and processed vegetable oil. Made from whole fish filets, with a crispy panko breadcrumb exterior and fragrant seasonings, and served with a homemade tartar sauce that takes minutes to make, I bet this Air Fryer Fish Fingers and Tartar Sauce recipe will be your go-to when you're craving a familiar childhood dish but still want to feed your body top-quality fuel.
Why Make Fingers Fingers at Home
I'm all for the convenience of prepared meals when they're high quality, but fish sticks are usually not worth it. Often made from leftover bits of fish that aren't always sustainable, they also contain gluten in the form of wheat flour unless they are certified gluten-free, something you will want to avoid if you have celiac disease. I recommend using cod, haddock, or silver hake for sustainability and flavor. 
Fish sticks are also usually made with the cheapest vegetable oils available, either canola or corn oil, as well as natural flavors that aren't as natural as one might think. 
Making them at home can seem daunting at first, but it's really not more difficult than breading some cutlets or chicken. And with the air fryer, you will get perfect crispiness without any deep-frying or heating up the kitchen.
What to Serve with Fish Sticks
You could of course serve Air Fryer Fish Fingers and Tartar Sauce with French fries, also cooked in the air fryer, but that might be more calories and carbs than you want to. If that's the case, they are also delicious with a side of coleslaw, a large green salad with a slew of crispy vegetables like cucumbers, carrots, radishes, celery, or cherry tomatoes, or a grain, like rice, quinoa, or even "riced" cauliflower. 
If making a salad, you could drizzle the tartar sauce on the final dish instead of using it as a dipping sauce. You can make the tartar sauce the day before, it will stay fresh if kept refrigerated at all times in a closed container. Not a fan of mayo? Try using Greek yogurt instead.
Perfect Air Fryer Fish Fingers
When cooking the fish fingers in the air fryer, be sure not to overcrowd them, and arrange them in a single layer even if you have to work in batches. Try not to mess with them and turn them over too often to keep the panko breadcrumbs on the fish. For sturdier breading, try dipping the fish in beaten egg before rolling in the panko/spice mix.
Do you track your meals using MyFitnessPal?  If so, simply scan the following barcode to quickly enter your item into your food tracking: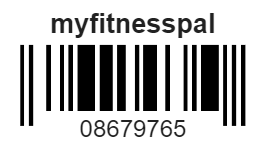 ---
For the fish:
1 lb. (450 g) white fish filets, skinless, cut into fingers
1 tablespoon olive oil
1 cup (60 g) panko breadcrumbs
½ teaspoon paprika
¼ teaspoon chili powder
¼ teaspoon garlic powder
¼ teaspoon onion powder
Salt and pepper
For the tartar sauce:
½ cup (115 g) mayonnaise
3 small pickles, diced
½ shallot, diced
2 teaspoons capers, drained
½ lemon, juiced
½ teaspoon Dijon mustard
Salt and pepper
---
Instructions
Drizzle the fish with olive oil lightly, and rub it gently to coat thoroughly.
In a bowl, mix the breadcrumbs with the paprika, chili powder, garlic powder, and onion powder.
Season with salt and pepper to taste.
Heat the Air Fryer to 390°F (200°C) and coat each fish fillet in breadcrumbs before transferring to the Air Fryer basket.
Cook for 12-15 minutes. After the first 8-10 minutes, open the Air Fryer and turn the fish fillets gently, then continue cooking.
In the meantime, make the tartar sauce. In a bowl, combine the mayonnaise, pickles, shallot, capers, lemon juice, and Dijon mustard. Taste, and season with salt and pepper. Set the tartar sauce aside in the fridge until ready to eat.
Serve the fish fingers with a side of tartar sauce with a large salad, a side of rice or quinoa, roasted vegetables, or your favorite side dish.
Prep Time:

10 minutes

Cook Time:

15 minutes

Category:

Dinner

Method:

Air Fryer
Nutrition
Serving Size:

4

Calories:

364 grams

Fat:

25 grams

Carbohydrates:

10 grams

Fiber:

1 gram

Protein:

14 grams
Keywords: air fryer, whitefish filets, panko breadcrumbs, runner-friendly, recipes for runners