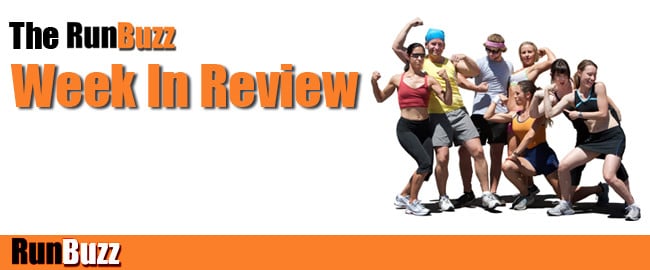 This post kicks off the beginning of what I hope becomes a regular series on interesting things I've seen around the web and cool things that've been happening at RunBuzz.  If you come across any interesting articles, events, or ideas, please send them my way!
What's happening at RunBuzz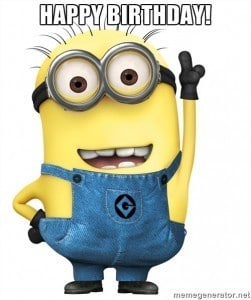 Around RunBuzz, my team and I have been very busy working to bring you the best running content we can. You can expect to see much of it in the months to come –
our goals are HUGE
!  I can't wait to share them when the time is right.  We're planning on going way beyond podcasts and blog posts, and what we develop should serve a lot of runners.
RunBuzz Radio Podcast
RunBuzz Radio recently celebrated its one year anniversary! As of the time of this post, there have been 30 total episodes, podcasts have been downloaded just under 100,000 times, and people have tuned in from over 135 countries or territories. Thanks to everyone who listens!
We also just published our 104th blog post. I can't wait to see what year two will bring!
PaceBuilders Speed Training Program For Runners Update
ThePaceBuilders Speed Training Program is a 16 week speed training program that is designed to help you run faster by developing a training program that is specific to YOU!
So far, the program, has been going very well.  Both the March and April classes sold out – well, that is until one person dropped out of the April course and another moved to May. So the latter was (and wasn't) a sellout, depending on how you look at it.
As of right now, there are only 8 slots left for our next class, so there's a good chance they'll all be filled by May 1st.
If you've ever wanted to know what it takes for you to actually get faster, then you'll definitely want to join this class. It's the last one I'm offering for a few months, so there's no better time to sign up!
Tenex for Plantar Fasciitis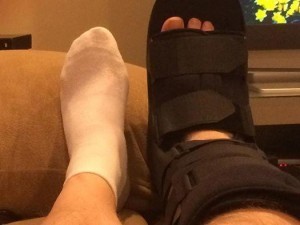 This week I underwent a procedure to take care of a lingering plantar fasciitis issue.As you can imagine, dealing with plantar fascitis has been very frustrating. For some reason, I just did not respond to months of rest and physical therapy. I even had weekly deep tissue massage (which was awesome), but it just did not help as much as I'd hoped.
Because of this unrelenting issue, I decided to have a tenex procedure done.
Tenex is a medical procedure that removes scar tissue. It facilitates new healing and is much less complicated than a full surgery.
I currently have a walking boot on, which should be removed in 10-14 days. I'll be able to return to running in about 8 weeks. I'll have a separate post on tenex and my experience with the procedure soon, so be sure to check back.
An Interview With P.J Dixon That Will Improve Your Running Mindset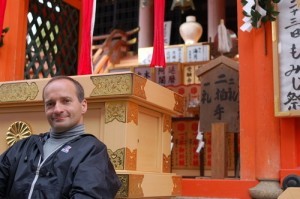 This week, I interviewed a childhood friend of mine, P.J. (The episode featuring the interview will be released later this week so stay tuned or
subscribe now
to get it when it comes out.)After recently reconnecting, I just had to have him on the show.   P.J. is not a runner – he has a rare form of muscular dystrophy that was supposed to take his life by age 7.  Yet P.J. is now about to turn 46, and he has refused to let the disease stand in the way of his many accomplishments. He's lived his life with a sense of purpose and, in the process, has inspired and helped others all around the world.
About 7 or 8 years back, P.J. encouraged me to chase my own passions and life goals. I believe he planted the seed in me to start coaching and helping others. I believe P.J inspired me enough to take action that, ultimately, became RunBuzz!
I can't wait for you to hear the interview! We primarily discuss perseverance vs. persistence and the art of not giving up.  Trust me, this is one podcast you will not want to miss. It's powerful, will help anyone who listens, and will make you a better runner (and person) for doing so.
What's Going on Around the Web?
This week, there's a lot going on on around the internet!  Here are just few running related happenings.
Congratulations Daren Wendell On 100 Marathons in 100 Days!
Congratulations to Daren Wendell on completing his 100 marathons in 100 days challenge. You might recall that Daren was a guest of the show on episode 16, where he talked about what it takes to train for running across the country.
Daren is running to raise money and awareness for his charity, Active Water, which strives to provide clean drinking water, sanitation, and proper hygiene to some of the world's most impoverished areas.
Here are a few of his stats:
Distance: 2900 miles across 14 states
Time: 100 Days
Avg distance/day:  29.9 miles
Avg Pace: 10:00-11:00 min mile
Pairs of Shoes:  10
Calories Burned:  7000/day
Money Raised: $126,000 on target of $140,000 goal
Watch his finish in NYC:
It's Boston marathon week!
Its Boston marathon week, and I have one athlete that'll be on her way to the city in a few days to take on her 2nd Boston marathon.  Good luck Melissa S. on your race!
It was also a relief to see the Boston marathon bombing suspect convicted. Hopefully, this will put an end to that chapter of the story and will get him out of the news.
On a positive note, I came across an uplifting story of Will McNamara who became blind after a terrible biking accident years ago. This year, he will be running his 8th Boston marathon since the accident. He credits a lot of his recovery to his 9-year old Newfoundland therapy dog.
You can learn more about Will and his fundraiser to support Massachusetts Eye and Ear Infirmary here.
Have a great week!
The following two tabs change content below.
Steve is the founder and head running coach of RunBuzz.com. Steve is host of the RunBuzz podcast and founder of
PaceBuilders
, a complete online training program for runners. Steve is a RRCA / USA Track and Field Certified Running Coach and resides in Lewis Center, Ohio.