2022 GIFT GUIDE FOR RUNNERS
We put together this buyers guide together to help you find the best gift for the runner in your life.  Everything on this list comes from personal recommendations from runners in our RunBuzz community and is refreshed every few months to bring you the latest, greatest gear. Your runner will be thrilled to add these items to their favorite running gear.
"Please note: As an Amazon Associate I my earn from qualifying purchases."
Running Gifts Between $51-$100
Our GPS Running Watch Buyer's Guide
OUR FAVORITE RUNNING GIFTS UNDER $20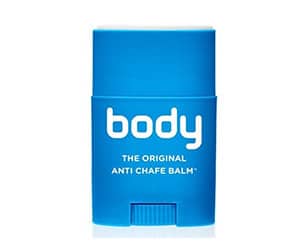 BODYGLIDE
 This deodorant-stick looking anti-chafing balm is easy to apply to prevent irritation from fabric material and skin rubbing before it hurts. Simply apply to any part of your body your clothes rub, seams irritate, or skin rubs together.
They offer the original glide,  a special women's formula, feet, and skin lotion.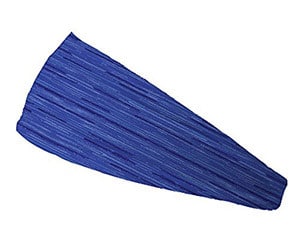 BONDIBAND HEADBANDS
For men and women alike, choose from their large variety of sweat-wicking head bands!
These soft, wide headbands are great for keeping hair out of your face, the sweat from dripping into your eyes, and a perfect light weight ear warmer for those mid-temp spring and fall runs.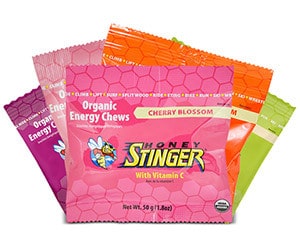 HONEY STINGERS VARIETY FRUIT CHEWS
Gu and gels aren't for everyone, so try these fruit chews to fuel those long runs. With this variety pack, you can try multiple flavors.
HoneyStingers also sells gels and wafers. We love this brand because it uses all-natural sugar source, honey, rather than high fructose corn syrup.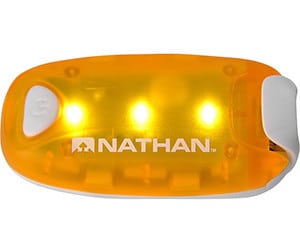 NATHAN CLIP LIGHT
Clip this little guy to your shoes, shirt, or back of your shorts as a light to be seen for running in the dark. Hold down the button to set as a steady light, or hit the button once to make it flash. The light is small enough to fit in the palm of your hand, but don't underestimate its size, it is bright! Battery life is pretty good, and uses a watch battery. Multiple colors available.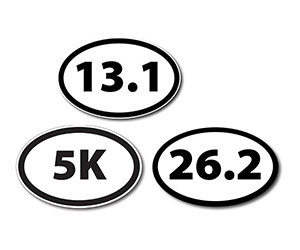 CAR MAGNETS
Because if you don't display your distance PR on the back of your car, did it even happen?
Let everyone on the roads and in the parking lot know how awesome you are and far you can run!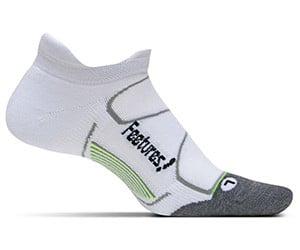 FEETURES! SWEAT-WICKING SOCKS
These comfortable socks contain some compression, but stretchy enough for comfort. The extra padding in the sole of the foot provides a little extra cushion, and the blister proof, sweat-wicking fabric will keep your feet dry and protected on every run. Comes in multiple colors for both men and women, gender specific sizing.
OUR FAVORITE RUNNING GIFTS BETWEEN $21-$50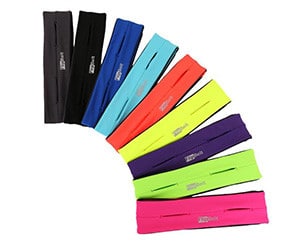 THE ORIGINAL FLIPBELT
This belt is purchased based on waist/hip circumference and fits like compression gear, not adjustable. Just slip it up on over your hips.
With all the pockets and compartments, you can carry everything you need: phone, keys, cash, cards, and fuel. You even have the option to purchase a water bottle to slide in the back part. Bonus: multiple color options!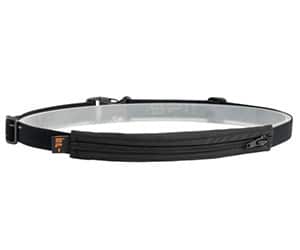 SPIBELT
This belt is small and compact, but can expand out to fit quite a bit of stuff in the zipper pouch. This band is adjustable and clips on. Comes in multiple color options!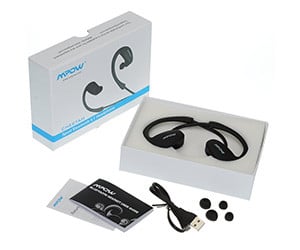 MPOW CHEETAH BLUETOOTH HEADPHONES 
These Bluetooth headphones are easy to set up to your phone, come with multiple earbud sizes to choose from, and has a rechargeable battery.
It has a long life of up to 8 hours of streaming use on each charge. The curve around the ear keeps these in place with no bounce.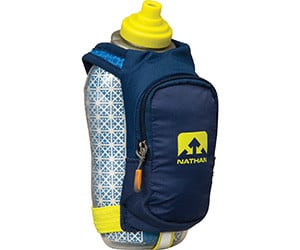 NATHAN HANDHELD SPEEDDRAW INSULATED WATER BOTTLE
Choose between a 12 oz or 18 oz bottle. Slide your hand right into the jacket and slip your thumb through for a no-grip necessary hold on the water bottle. The zipper pocket on the front is just big enough for an iPhone 7 (definitely nothing bigger). Without a phone, it is big enough to hold multiple gel packets, keys, ID, and cash all together. Although it is insulated, the heat from your hand does warm it up, so add ice on those hot days. The lid does not have a cap on it that you need to pull up or down, does not leak, and is a great little mister for when you want to cool off your face. Multiple colors available!
NATHAN HYDRATION BELT
These ergo-shaped runner hydration belts will allow you to take your hydration on the run. The belt comes with a multidimensional stretch capability to minimize bouncing.
Each 10 ounce bottle is insulated, easy to remove and replace in the holster while running and has push/pull caps for easy drinking.
The belt also comes with key ring clips and front pouch that you can use to stash your phone, money, and gels.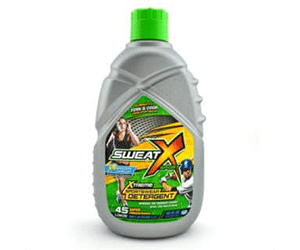 SWEATX LAUNDRY DETERGENT
The nicest way to tell your runner they smell…just kidding! Get the inevitable 'stank' out of workout clothes with this laundry detergent, and hang to dry to keep tech fabric fresh and properly fitting.
OUR FAVORITE RUNNING GIFTS BETWEEN $51-$100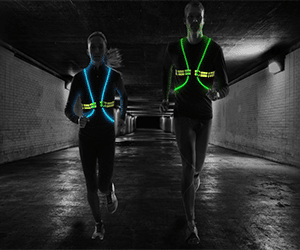 NOXGEAR 360 TRACER
An important safety issue with night running is being seen. NoxGear is a battery operated light with a reflector chest strap that allows you to be seen from every angle. There are multiple light settings to choose from such as different speeds of color changing light flashes, or choose a solid color of your choice. Be sure to buy AAA batteries with this gift. As the batteries start to run low, the light will turn to a solid color of red, and will do low red pulsing light as the last warning to change the batteries. They also make dog harnesses and collars for your 4-legged running buddy.Check out our detailed review, here.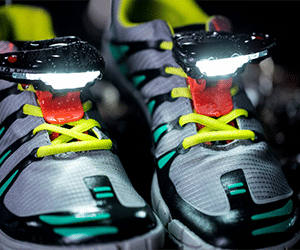 NIGHT RUNNER 270 SHOE LIGHTS
As seen on Shark Tank, these lights clip onto shoe laces to see the ground in the dark rather than wear a headlamp. These rechargeable lights last up to 8 hours and are adjustable to be angled to your preference.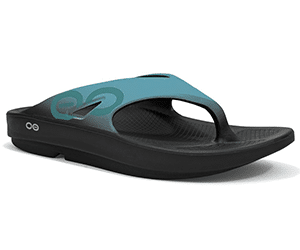 OOFOS
This moisture and odor resistant unisex sandal has the support you need after a hard workout. Running shoes are built to propel you forward, these shoes do the exact opposite, but has similar shock absorption. Arch support and toe designs are meant to ease your back, knees and ankles to speed up recovery. OOFOS come in a multiple designs, so if you prefer a slide on shoe rather than a thong, you have options, not to mention every color choice you can imagine.
OUR FAVORITE RUNNING GIFTS OVER $100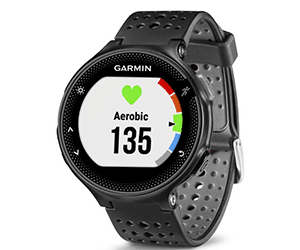 GARMIN FORERUNNER 235
This latest model running watch does everything you could need for your workouts. Comes complete with wrist heart rate monitor, and activity step tracker. Connect to your phone to download your workouts, daily activity, and sleep patterns.
Looking to spend a little less? Certified refurbished will save you over $100.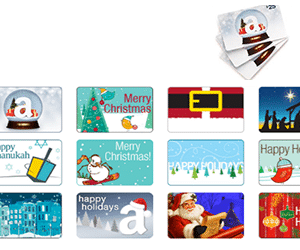 AMAZON GIFT CARD
Still not sure what to get your runner? Then pick up an Amazon gift card today. With an Amazon gift card, your runner can get what they need, when they need it.
Multiple amount options available and you can even print your gift card from home or email them directly to the recipient.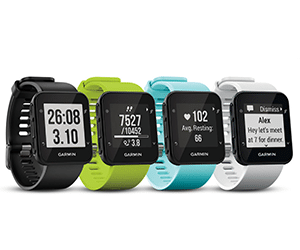 GARMIN FORERUNNER 35
This watch has a heart rate monitor, much cheaper than the 235, and is a great watch for someone who doesn't want or need all the extra functions of a more expensive watch.
The 35 also tracks daily activity such as the step counter and sleep tracker.