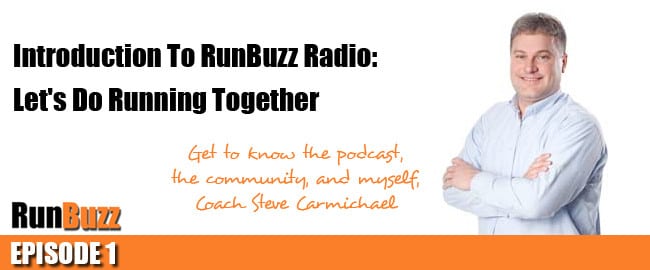 Show Notes:
In this episode of RunBuzz, I introduce you to the podcast, the community, and to myself, Steve Carmichael, a recreation runner, running coach, running club director, and founder of RunBuzz.com.  Together, we'll explore what makes this podcast different from podcasts I have done in the past and why, after two years, I decided to switch directions and build a new brand, new podcast, and new community geared towards living a healthier lifestyle through running.
The RunBuzz Podcast
Today, I share the basics of the RunBuzz podcast, how you can get involved as a co-host, and my goals to make the podcast go above and beyond the "pure training" focus I had for the Marathon Training Podcast I did previously.
RunBuzz hits you right at the intersection of training and life.
Lifestyle impacts our running just as much as the amount of miles you run or the pace of your tempo runs.  These running-specific factors are certainly important, but, if you can't manage the lifestyle pieces of the fitness puzzle, you may be sabotaging your ability to be the best runner you can be.
For example:
Developing good training habits
Fatigue and stress
Time management
Eating healthier
Mindset and motivation
Accountability
All of these items (and more) play into how successful we are as runners.
This podcast is geared towards all levels of runners – whether you're taking your first steps or are an experienced pro, RunBuzz is here for you.
The RunBuzz Community
Today, I share the philosophy behind the RunBuzz community.  I describe how RunBuzz is built around accountability, motivation, and, ultimately, a support system for everyday runners.  I explain how we need you to be a part of it and how you can get involved.
The Power of RunBuzz is in the strength of the community.
That's you!
The Runner's Toolkit
In this episode, I also share how you can get 30 days of coaching tips delivered to you directly by email.
Additionally, you get links to our private Facebook group page, which is the home of our community forums. Unlike a 'fan' page, what you post actually gets seen by all members in their timeline.  In contrast, less than 5-10% of Facebook fan page posts show up on your timeline unless the page owner promotes the post at a cost.
Finally, as part of the Runner's Toolkit, you get email access to email me your #1 running issue, and I'll give you a personal response.
---
Running Resources
PaceBuilders® Training System – A complete, end to end, custom training program for runners. Get unlimited 'customized' training plans with unlimited modifications that match your lifestyle and running goals. PLUS, get access to video training sessions and unlimited support so you can blast through your running goals.
Customized Training Plans For Any Race Or Distance – 100% handwritten custom training plans written around your unique situation. Don't settle for generic training plans found in books, magazines, or online. Our training plans take your history, your goals, your fitness profile and your lifestyle into consideration. Includes free access to Final Surge, where you can view and log your workouts anywhere you have access to a web browser, or use the mobile app.
Runner's Toolkit – Get access to 30 days of free coaching tips by email and get your #1 running question personally answered by me, just for signing up. Plus get free access to our private Facebook community where other RunBuzz community members gather for support, camaraderie and general shenanigans.
Find out how you can support RunBuzz's mission to bring quality running content (educational, inspirational, etc) to the running community. Help support me in my mission to make every runner regardless of age, size and ability a better runner.
---
Join The Community: Subscribe and Review!
If you'd like to get RunBuzz delivered automatically to your smartphone or podcast player at no charge to you, please subscribe using your preferred method below:
If you'd like the direct RSS feed for your own favorite RSS Podcast Player, click here to get it!
If you get a chance, please leave me an honest review and rating on iTunes by clicking here. (This helps me get the show up in the rankings and I'd deeply appreciate it. 🙂 )
---
I Appreciate Your iTunes Reviews!
Getting a 5 star rating and/or written review is incredibly important for this show. It helps with ranking and with generating the necessary exposure that gets this podcast out in front of other runners.
But it is even more important to me!
I read each and every comment and really take them all to heart. They provide encouragement that what I am doing is getting noticed and that the show is getting listened to.
I am so thankful to those who have recently gone into iTunes to provide a five star rating and written a review of RunBuzz Radio.
If you can and would like to provide a rating and/or write a review (there's certainly no obligation), then you can do so by following these instructions:
1) Go to the show's iTunes Page or search "RunBuzz" from iTunes if you aren't already a subscriber.
2) Open the page in the iTunes app, and click on the number of stars for the rating you think I deserve.
3) Write a sentence or two to share your comments.
Thank you SO Much!
---
The following two tabs change content below.
Steve is the founder and head running coach of RunBuzz.com. Steve is host of the RunBuzz podcast and founder of
PaceBuilders
, a complete online training program for runners. Steve is a RRCA / USA Track and Field Certified Running Coach and resides in Lewis Center, Ohio.