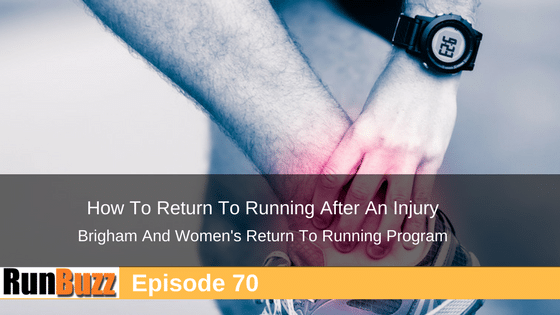 Show notes:
Ever wonder the best way to return to running after an injury? In this episode, Stephanie and I walk through the Brigham and Women's Hospital Return To Running Program.  Brigham and Women's Hospital is an affiliate teaching hospital of Harvard Medical School.
This program was developed by physical therapists and doctors to help you return safely to running after an injury that resulted in time off.  We also share our thoughts on how to apply the program or tweak the program to your situation. Injuries suck!  And depending on how long you have been off, coming back can be tough.  We walk you through the program and provide tips to help make your return to running safe and avoid re-injury to the best extent possible.
This program has been used by doctors, physical therapists, athletic trainers, coached and runners all over the world.  You can get access to a PDF Download of the program here.
Finally, we reveal our new Summer RunBuzz Webinar Series and our new Custom Training Plans.
When To Use This Return To Running Program
This program is designed to be used when you are returning to running AFTER you have been treated for injury or you took some time off to self-heal and now you are ready to return to running because you think you have healed. This program is not a substitute for medical advice, and when in question you should always follow the advice of your doctor or physical therapist.
When applying the program (and the various levels/phases) of your return, always use pain/discomfort as your guide before advancing to the next stage of the program. If pain exists, do not proceed to the next stage.
Running Resources
Runner's Toolkit – Get access to 30 days of free coaching tips by email and get your #1 running question personally answered by me, just for signing up. Plus get free access to our private Facebook community where other RunBuzz community members gather for support, camaraderie and general shenanigans.
Find out how you can support RunBuzz's mission to bring quality running content (educational, inspirational, etc) to the running community. Did you know it takes approximately 8-10 hours of work to research, record, edit and release each podcast episode? Help support us in our mission to make every runner regardless of age, size and ability a better runner. Your support helps keep future RunBuzz podcast episodes ad-free and new episodes coming.
---