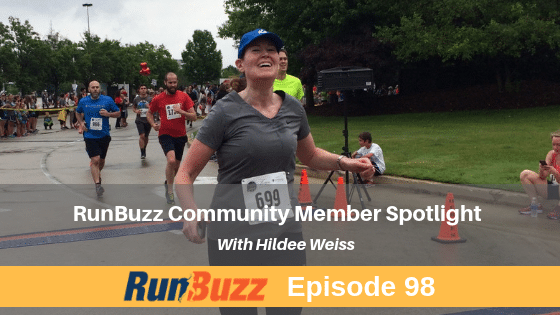 In this episode of the RunBuzz podcast, I interview Hildee Weiss. Hildee is part of our RunBuzz Facebook group and our first featured member of our community in some time.
We discuss:
How Hildee got started running after years of inactivity.
Building confidence: How Hildee's trainer challenged her to run her first 5k, long before she felt ready.
How she overcame fear and lack of self-confidence to go on to run more races.
Her favorite race experience this past March at the Jerusalem marathon where she ran the 10k.
Hildee's use of strength training to improve her overall running and pace.
Hildee's use of swimming as a form of cross training.
The mental hurdle of possibly wanting to run a marathon.
How to address the feeling of quitting during a run.
The importance of total body fitness
Additional Running Resources
Runner's Toolkit – Get access to 30 days of free coaching tips by email and get your #1 running question personally answered by me, just for signing up. Plus get free access to our private Facebook community where other RunBuzz community members gather for support, camaraderie and general shenanigans.
Find out how you can support RunBuzz's mission to bring quality running content (educational, inspirational, etc) to the running community. Did you know it takes approximately 8-10 hours of work to research, record, edit and release each podcast episode? Help support us in our mission to make every runner regardless of age, size and ability a better runner. Your support helps keep future RunBuzz podcast episodes ad-free and new episodes coming.