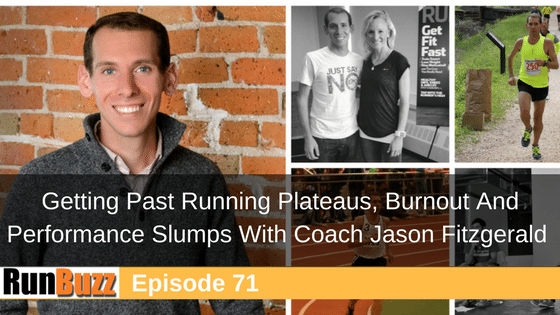 Show notes:
In this episode, we talk to Coach Jason Fitzgerald about running plateaus, running slumps, and what to do when we stall with our running. We also talk about the differences between burnout and performance plateaus. Jason hosts the Strength Running Podcast and runs the Strength Running website.  Jason provides a ton of running tips to help break through any running slumps to get you back on track with your progress.
I also introduce our next LIVE Summer Series workshop (a replay will be available) where we dig into the fact vs. fiction of running for weight loss and how training and nutrition plays into your running. We'll look into what the science says and I'll share some tools you can use to start your weight loss journey whether you just need to lose a few pounds or a lot.
Here are some of the key things we discuss in this episode:
Is there really such thing as a reaching a running plateau?  What does a running plateau mean within the scope of today's discussion?

The physiology of reaching your physical limits of running is extremely rare, even in elite athletes.
Most of us never reach their potential.
There are so many opportunities to improve your running and get better
The key is consistency, intelligent training, and staying injury free

The importance of mindset, patience, and focusing on the next logical step in your training.
The importance of making a break-thru in your training, and its correlation to improved racing.
The importance of finding the type of training that best works with the type of runner you are.

Some runners respond well to high volume and some don't. Some respond well to high intensity/speed work, some runners fall apart.

How do we know what kind of runner we are?
The importance of fundamental principles and applying what we know works well and discarding what doesn't
Increasing mileage and volume is one of the best ways to increase performance for 'most' runners.  This increases the runner's capacity for work (e.g. physical exertion). If not more, mileage, look for other types of training (swimming, cycling, elliptical, etc.)
The difference between burnout and over training

Burnout is more mental fatigue whereas over training is more physiological.
The importance of cycling your training to prevent burnout.

Macrocycles and microcycles and how they fit into your training.  (Seasons or sub-segments of seasons)
Can racing too much impact our ability to progress? What are the tradeoff's?
How can we integrate multiple races into a training season?
The #1 limiting factor for most runners is endurance. To get faster, your endurance fitness level must be improved.
For 5k-10k distances, the long run is the second most important workout of the week.  For half and full marathon distances, the long run is the most important workout each week.
How to 'sandwich' your run to improve your running.
How to 'progress' your run from where you are at to get to your next logical position in your training.
The importance of experience, ongoing education and active learning as a runner.
Jason's website and contact information:
Running Resources
PaceBuilders™ Training System – A complete, end to end, custom training program for runners. Get unlimited 'customized' training plans with unlimited modifications that match your lifestyle and running goals. PLUS, get access to video training sessions and unlimited support so you can blast through your running goals.
Customized Training Plans For Any Race Or Distance – 100% handwritten custom training plans written around your unique situation. Don't settle for generic training plans found in books, magazines, or online. Our training plans take your history, your goals, your fitness profile and your lifestyle into consideration. Includes free access to Final Surge, where you can view and log your workouts anywhere you have access to a web browser, or use the mobile app.
Runner's Toolkit – Get access to 30 days of free coaching tips by email and get your #1 running question personally answered by me, just for signing up. Plus get free access to our private Facebook community where other RunBuzz community members gather for support, camaraderie and general shenanigans.
Find out how you can support RunBuzz's mission to bring quality running content (educational, inspirational, etc) to the running community. Help support me in my mission to make every runner regardless of age, size and ability a better runner.
---
Join The Community: Subscribe and Review!
If you'd like to get RunBuzz delivered automatically to your smartphone or podcast player at no charge to you, please subscribe using your preferred method below:
If you'd like the direct RSS feed for your own favorite RSS Podcast Player, click here to get it!
If you get a chance, please leave me an honest review and rating on iTunes by clicking here. (This helps me get the show up in the rankings and I'd deeply appreciate it. 🙂 )
---
I Appreciate Your iTunes Reviews!
Getting a 5 star rating and/or written review is incredibly important for this show. It helps with ranking and with generating the necessary exposure that gets this podcast out in front of other runners.
But it is even more important to me!
I read each and every comment and really take them all to heart. They provide encouragement that what I am doing is getting noticed and that the show is getting listened to.
I am so thankful to those who have recently gone into iTunes to provide a five star rating and written a review of RunBuzz Radio.
If you can and would like to provide a rating and/or write a review (there's certainly no obligation), then you can do so by following these instructions:
1) Go to the show's iTunes Page or search "RunBuzz" from iTunes if you aren't already a subscriber.
2) Open the page in the iTunes app, and click on the number of stars for the rating you think I deserve.
3) Write a sentence or two to share your comments.
Thank you SO Much!
---
The following two tabs change content below.
Steve is the founder and head running coach of RunBuzz.com. Steve is host of the RunBuzz podcast and founder of
PaceBuilders
, a complete online training program for runners. Steve is a RRCA / USA Track and Field Certified Running Coach and resides in Lewis Center, Ohio.