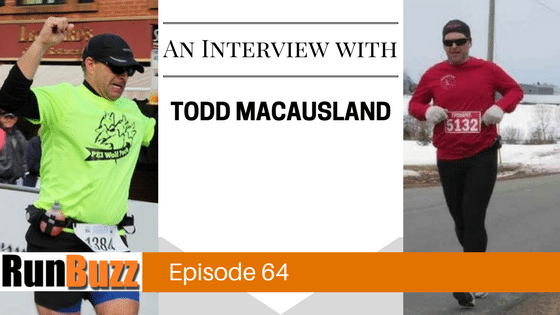 Show Notes:
In today's episode, I am joined by guest Todd Macausland, a RunBuzz community member, who is a visually impaired runner from Canada.  Todd has a condition known as retinitis pigmentosa, but that does not stop him from being a runner.  Todd has run lots of races including multiple marathons. Todd and I discuss his background in running. favorite running tips, and the challenges of being a visually impaired runner.
We discuss Todd's training and his ability to run and train for races.
The use of running guides to help with races.
We talk about being stronger that you think you are as a runner.
Running as an outlet to help embrace his vision loss.
Todd's running tips for beginners.
Todd's running tips for experienced runners.
Todd's toughest moment in running when he went out too fast at his second marathon. He shares what motivated him to not give up and what motivates him going forward in races.
We discuss going out too fast in a race and the effect it has on our running.
Todd during his second marathon: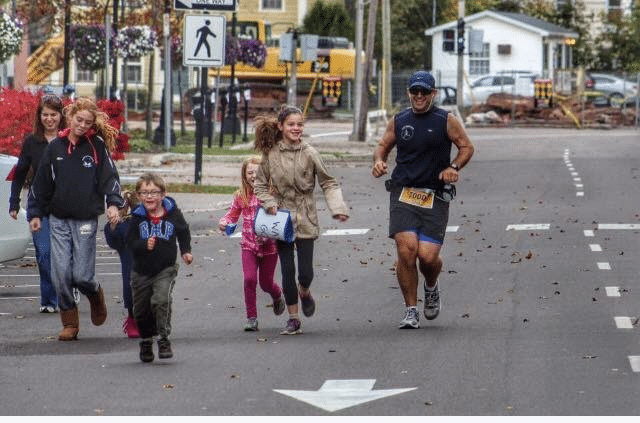 Resources/articles mentioned on the show:
Canadian Broadcasting Corporation's article on Todd: Partially Blind P.E.I Marathon Runner Inspires Others to Lace Up
RunningBlind.org – Provides guides and running resources for runners with vision impairments or other disabilities.
United in Stride – Helping connect runners with visual impairments with running guides.
I hope you enjoyed this episode of the RunBuzz podcast.
Happy Running!
Steve
Running Resources
Runner's Toolkit – Get access to 30 days of free coaching tips by email and get your #1 running question personally answered by me, just for signing up. Plus get free access to our private Facebook community where other RunBuzz community members gather for support, camaraderie and general shenanigans.
Find out how you can support RunBuzz's mission to bring quality running content (educational, inspirational, etc) to the running community. Did you know it takes approximately 8-10 hours of work to research, record, edit and release each podcast episode? Help support us in our mission to make every runner regardless of age, size and ability a better runner. Your support helps keep future RunBuzz podcast episodes ad-free and new episodes coming.