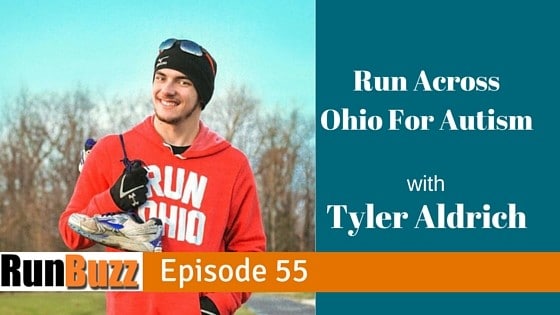 Show Notes:
In this episode, I speak with Tyler Aldrich, a 21 year old college student from Fremont, Ohio who developed a passion for running in high school and then decided to use his passion as a way to make the world a better place.  At just 21 years old, Tyler will be running across Ohio this summer to raise money for the Make it Fit Foundation. He will be running 200-250 miles.  Tyler is graduating this month with a degree in Criminal Justice and will be a commencement speaker. This episode is inspirational and Tyler shows us how, as runners, we can take our passion and not only change our own lives, but others too.
We discuss:
Tyler's background and how running became his passion
How living with Autism does not define Tyler, but rather how he embraces it to motivate others and to make the world a better place.
How he went from high school track and cross country to extreme endurance athlete.
How Tyler plans to run across Ohio from Fremont to Cincinnati to raise money for the Make It Fit Foundation, an organization that provides services and helping others affected by Autism.
Tyler's top running tips!  These are great tips to help you become a better runner.
Here is a documentary by Mark Grine about Tyler:
Tyler Aldrich Contact Info For Support and Sponsorships:
Facebook:  https://www.facebook.com/TylersJourneyRunOhio/
Tyler's Run Website:  http://www.makeitfit.org/run-ohio/
For more information on sponsorships and donations, please click here.
The Make It Fit Foundation
Make It Fit Foundation Website: http://www.makeitfit.org
The Make It Fit Foundation is an autism organization, dedicated to helping kids with autism and their families through a widely diverse range of ways including social programs, summer camps, educational equipment, iPads, Equine Therapy, Special Education Advocacy Programs, nutrition seminars, education seminars, and their latest endeavor – Robots,  especially built to help improve the lives of people with autism, to help them become more independent, happy, healthy, and productive members of society. Make It Fit raises funds in an equally diverse manner, such as 5K races, charity motorcycle rides, custom car shows, sales of t-shirts, artwork, business partners, and of course through events like this, and people like Tyler Aldrich. Make It Fit has $0 payroll, $0 rent, $0 in car payments, and intends to stay that way until such a time where administrative grants may be received, as to not take away any funds from money that is raised or donated to help kids with autism and their families.

Make It Fit is successful because of a small army of volunteers who are willing to give their time, talent, and their heartfelt effort, in order to make the world a better place. That's also what makes more and more people get involved with them – They're just ordinary people, who together make extraordinary things happen.

Have a great week!
Running Resources
PaceBuilders™ Training System – A complete, end to end, custom training program for runners. Get unlimited 'customized' training plans with unlimited modifications that match your lifestyle and running goals. PLUS, get access to video training sessions and unlimited support so you can blast through your running goals.
Customized Training Plans For Any Race Or Distance – 100% handwritten custom training plans written around your unique situation. Don't settle for generic training plans found in books, magazines, or online. Our training plans take your history, your goals, your fitness profile and your lifestyle into consideration. Includes free access to Final Surge, where you can view and log your workouts anywhere you have access to a web browser, or use the mobile app.
Runner's Toolkit – Get access to 30 days of free coaching tips by email and get your #1 running question personally answered by me, just for signing up. Plus get free access to our private Facebook community where other RunBuzz community members gather for support, camaraderie and general shenanigans.
Find out how you can support RunBuzz's mission to bring quality running content (educational, inspirational, etc) to the running community. Help support me in my mission to make every runner regardless of age, size and ability a better runner.
---
Join The Community: Subscribe and Review!
If you'd like to get RunBuzz delivered automatically to your smartphone or podcast player at no charge to you, please subscribe using your preferred method below:
If you'd like the direct RSS feed for your own favorite RSS Podcast Player, click here to get it!
If you get a chance, please leave me an honest review and rating on iTunes by clicking here. (This helps me get the show up in the rankings and I'd deeply appreciate it. 🙂 )
---
I Appreciate Your iTunes Reviews!
Getting a 5 star rating and/or written review is incredibly important for this show. It helps with ranking and with generating the necessary exposure that gets this podcast out in front of other runners.
But it is even more important to me!
I read each and every comment and really take them all to heart. They provide encouragement that what I am doing is getting noticed and that the show is getting listened to.
I am so thankful to those who have recently gone into iTunes to provide a five star rating and written a review of RunBuzz Radio.
If you can and would like to provide a rating and/or write a review (there's certainly no obligation), then you can do so by following these instructions:
1) Go to the show's iTunes Page or search "RunBuzz" from iTunes if you aren't already a subscriber.
2) Open the page in the iTunes app, and click on the number of stars for the rating you think I deserve.
3) Write a sentence or two to share your comments.
Thank you SO Much!
---
The following two tabs change content below.
Steve is the founder and head running coach of RunBuzz.com. Steve is host of the RunBuzz podcast and founder of
PaceBuilders
, a complete online training program for runners. Steve is a RRCA / USA Track and Field Certified Running Coach and resides in Lewis Center, Ohio.