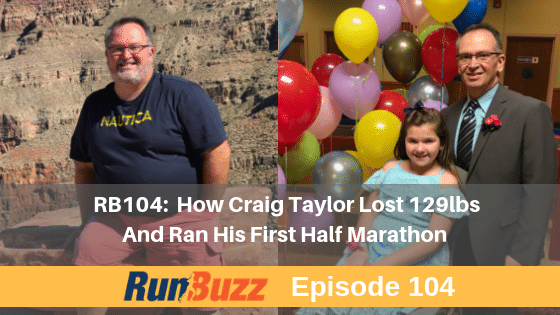 In this episode of the RunBuzz podcast, we talk to Craig Taylor, a RunBuzz community member who lost 129 lbs when he decided to take his life back and get in shape. Craig's inspirational story will motivate and inspire you.
Want to help support the RunBuzz podcast?  We spent over 10 hours per episode and each donation goes a long way to help us cover our costs. Just a few dollars per month, or a one-time donation goes a long way to keeping our show running.  To help support the show, please click here. 
Show Notes:
In this episode of the RunBuzz podcast, we talk to Craig Taylor who is a member of the RunBuzz community.  In this  podcast, we feature members who were willing to share their running journey with our RunBuzz audience.  Craig is a full-time minister who took up running to get in shape and in the process lost over a 100 lbs.  Find out how he went from a minor health scare to running half marathons.  And not just running them, crushing them!
Other Running Resources
PaceBuilders™ Training System – A complete, end to end, custom training program for runners. Get unlimited 'customized' training plans with unlimited modifications that match your lifestyle and running goals. PLUS, get access to video training sessions and unlimited support so you can blast through your running goals.
Runner's Toolkit – Get access to 30 days of free coaching tips by email and get your #1 running question personally answered by me, just for signing up. Plus get free access to our private Facebook community where other RunBuzz community members gather for support, camaraderie and general shenanigans.
Find out how you can support RunBuzz's mission to bring quality running content (educational, inspirational, etc) to the running community. Help us support our mission to make every runner regardless of age, size and ability a better runner. Each episode requires over 8 hours, or research, recording and editing.
---