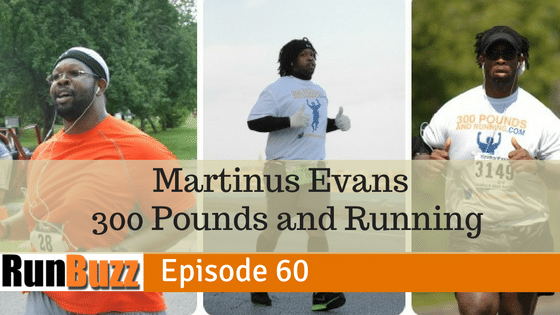 Show Notes:
On the podcast today is running coach and fellow runner, Martinus Evans.  Martinus began running in 2012 after a doctor told him he needed to lose weight. Martinus weighed approximately 360 pounds at the time and was seeking medical help after numerous attempts to deal with hip pain were unsuccessful. But when Martinus saw this particular doctor, he wasn't presented with sympathy or even kindness. He was presented with a doctor that called him fat and then told Martinus he needed to start walking.
Martinus replied with "Screw walking. I'll run a marathon."  And so began a journey that Martinus to completing the Detroit marathon, starting his 300 pounds and running blog, and becoming a certified running coach so he could help others in similar situations.  Be sure to tune in to hear Martinus's inspirational story of success, yet one that continues to challenge him each and every day.
In today's show, we discuss:
How Martinus got started in running after a doctor's rude comments led him to the local running store to buy running shoes.
Martinus's challenging start to running as an overweight runner.
Martinus and his experience training for and completing the Detroit Marathon.
How Martinus got started in blogging on weight loss, running, and life.
How Martinus got into coaching and mentoring others.
The pressure of comparing yourself to other runners and why that can be discouraging.
Self confidence and being self conscious as a runner.
To learn more about Martinus, you can follow him at:
Have a great week!
Running Resources
Runner's Toolkit – Get access to 30 days of free coaching tips by email and get your #1 running question personally answered by me, just for signing up. Plus get free access to our private Facebook community where other RunBuzz community members gather for support, camaraderie and general shenanigans.
Find out how you can support RunBuzz's mission to bring quality running content (educational, inspirational, etc) to the running community. Did you know it takes approximately 8-10 hours of work to research, record, edit and release each podcast episode? Help support us in our mission to make every runner regardless of age, size and ability a better runner. Your support helps keep future RunBuzz podcast episodes ad-free and new episodes coming.
---