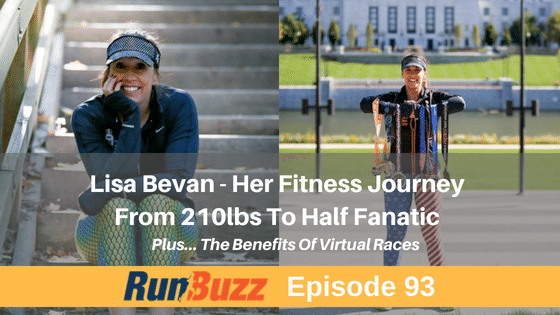 In this episode of the RunBuzz podcast, I introduce you to my special guest, Lisa Bevan. Lisa is a personal friend and the newest member of the RunBuzz team. Lisa joins us as our Facebook community manager.
Lisa and I discuss her amazing weight loss and fitness transformation journey, her strength training, and how she went from 210 lbs and out of shape to running numerous half marathons, 10ks, 5ks, and even virtual races. We discuss her ups and downs and her current battle with Hemochromatosis, an iron disorder that causes excessive iron build up in her body that has forced her to stop running temporarily.
We also discuss her experience with virtual races, what they are, how to find them, and the benefits she has gotten running them.
All this and more on today's episode!
Show Notes:
We discuss how Lisa went from 210 lbs and not able to walk more than ten minutes to a 16-time half marathoner.
We discuss how Lisa used a combination of running, weight training and diet to transform her health and fitness.
Lisa shares her experience joining my running club several years ago and how scared and intimidated she felt but decided to join us anyways and how it changed her life.
How she lost the weight through a combination of running, weight training and nutrition.
We discuss Oofos recovery shoes and how she uses them for recovery.
Lisa shares how her and her best friend compete against each other to run the most races and how they challenge (and support each other),
We discuss briefly a couple of races we love and have raced together. Emerald City Quarter and Half Marathon and Cap City Half and Quarter Marathon.
We discuss how her running has come to a screetching halt and how she was getting sick after runs.  She discusses how she has Hemochromatosis, an iron disorder that causes her body to hold on to iron beyond the normal limits.  She is in the middle of figuring out how to get back to running.
We discuss virtual races and her experience running them.
We discuss the benefits of virtual races and how they keep her and her friends motivated to keep running.
We discuss how virtual races are a great way to introduce kids to running, especially when local races are not handing out medals.
We discuss her involvement with

US Road Running

and their virtual races and she discusses how they are now doing local races. Lisa has been asked to run a local race as the local race director.
Finally, we discuss her new role as our community manager.

 

Here are a few products Lisa mentioned on the show.
Note: These are Amazon affiliate links. We may receive a small commission should you purchase through our links. 

 

Way 2 Cool – Microfiber Cooling Towel
Simply soak it, wring it, wrap it, and re-wet it to reactivate it. Retains water and maintains coolness while staying dry to the touch.


Oofos Recovery Flip Flops
Oofos flip flops and recovery shoes are used to help you recover after a run or race. These are highly recommended for post-run recovery.

Ink and Burn Clothing – Lisa was an ambassador for Ink and Burn, a popular clothing line for runners and fitness and yoga enthusiasts.  Check out the title image above for examples of her wearing her Ink and Burn running pants.

Thanks and Happy Running!

Running Resources

Runner's Toolkit – Get access to 30 days of free coaching tips by email and get your #1 running question personally answered by me, just for signing up. Plus get free access to our private Facebook community where other RunBuzz community members gather for support, camaraderie and general shenanigans.

Find out how you can support RunBuzz's mission to bring quality running content (educational, inspirational, etc) to the running community. Did you know it takes approximately 8-10 hours of work to research, record, edit and release each podcast episode? Help support us in our mission to make every runner regardless of age, size and ability a better runner. Your support helps keep future RunBuzz podcast episodes ad-free and new episodes coming.

---