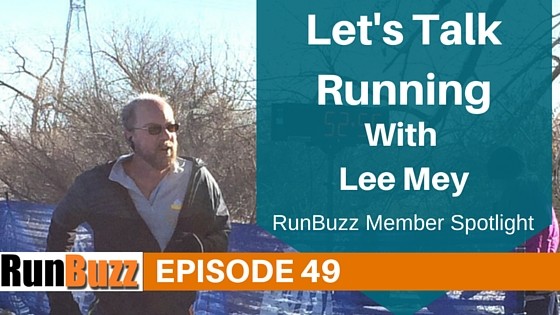 Show Notes:
Welcome to part two of our running series focusing on you, the people of the RunBuzz running community.  This special six part series will be released daily. Each episode focuses on one specific runner, their running journey and the tips that they wanted to share with you.
In today's episode, my special guest is, Lee Mey. Lee resides in Denver Colorado  in the mist of the Rocky Mountains.  Listen in as Lee shares his story and some of his favorite running tips.
We discuss:
How Lee got started in running and his running background to date.
How he went from playing basketball, lifting weights and roller derby to running
How a heart attack led him to seek better cardiovascular health through running.
How he pushed through a nagging basketball injury to continue running
How consistency and motivation pushes him through tough times and races (and what he learned during his days of roller derby)
His top running tips that works well for him and that he wanted to share with our community.
I hope you enjoy this series, and if you would like to share your running journey, please don't hesitate to reach out to me.
Have a great week!
Running Resources
Runner's Toolkit – Get access to 30 days of free coaching tips by email and get your #1 running question personally answered by me, just for signing up. Plus get free access to our private Facebook community where other RunBuzz community members gather for support, camaraderie and general shenanigans.
Find out how you can support RunBuzz's mission to bring quality running content (educational, inspirational, etc) to the running community. Did you know it takes approximately 8-10 hours of work to research, record, edit and release each podcast episode? Help support us in our mission to make every runner regardless of age, size and ability a better runner. Your support helps keep future RunBuzz podcast episodes ad-free and new episodes coming.
---