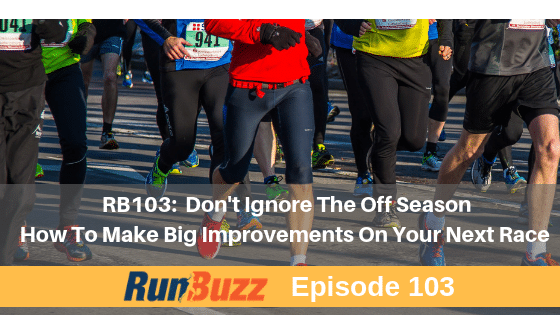 In this episode of the RunBuzz podcast, we talk about  the offseason. This is the time of year where we wind down our races and chill a bit as we wait for the next race season to start. Where I live this is the late Fall when the weather gets cooler.  But did you know, the offseason is the best time to do the things you need to do to set up next year's successful race season? In this episode, we look at ways you can still cut back, relax and have fun, yet make this downtime highly effective so you can improve your running.
Want to help support the RunBuzz podcast?  We spent over 10 hours per episode and each donation goes a long way to help us cover our costs. Just a few dollars per month, or a one-time donation goes a long way to keeping our show running.  To help support the show, please click here. 
Show Notes:
The off season is a great time to relax and start planning your next running goal.  What you do NOW will help you achieve major success next year.
To take advantage of the off season look for ways that improve your fitness, yet give you a break from the day in, day out hard training.  This gives your body and mind a break from running.
In this episode, we look for ways to improve your fitness and running without the hard core running.  All this and more coming up on today's show.
Additional Running Resources
Runner's Toolkit – Get access to 30 days of free coaching tips by email and get your #1 running question personally answered by me, just for signing up. Plus get free access to our private Facebook community where other RunBuzz community members gather for support, camaraderie and general shenanigans.
Find out how you can support RunBuzz's mission to bring quality running content (educational, inspirational, etc) to the running community. Did you know it takes approximately 8-10 hours of work to research, record, edit and release each podcast episode? Help support us in our mission to make every runner regardless of age, size and ability a better runner. Your support helps keep future RunBuzz podcast episodes ad-free and new episodes coming.