"This article contains links to some recommended products. Please note, as an Amazon Associate I may earn from qualifying purchases."
The Garmin Forerunner 310XT is a mid-range GPS watch designed for multi-sport athletes, such as triathletes. The most difficult part about reviewing the 310XT is not in terms of the features themselves, but rather this very common question I receive:
What is the Difference Between the Garmin 310Xt and the Garmin 910XT? 
Well, before continuing on with the actual review, let's get this question out of the way.
Both watches are designed for multi-sport athletes. However, one considerable difference does exist, in terms of open water vs. swimming pool training. If you are looking for a running watch, primarily, be sure to check out my detailed reviews of the Garmin 45 and Garmin 55. These are great watches to consider as well.
If you're an open water swimmer, the 310XT will cover your basic needs, like distance and speed. If you primarily train or compete in a pool, then the 910XT adds additional features, like stroke efficiency, swimming efficiency, stroke count, and lap count.
If you're not a heavy swimmer or do not need this detailed level of tracking, then the 310XT is the perfect (and less costly) choice, although the 910XT has really dropped in price as it is no longer the most current model.
Also, if you haven't checked out the latest Garmin triathlon watch, be sure to check out the Garmin 945.
Here is a quick video demonstration of the Garmin 310XT:
Features of Garmin 310XT
Let's go ahead and look at the key features of this watch. If you want more of a side by side comparison, be sure to check out my Garmin GPS watch comparison chart, otherwise, I'll stick to the basics.
Waterproof
The Forerunner 310XT is waterproof up to 50m and was designed for open water swimming. However, it does not have advanced features, like stroke count, lap count, swimming efficiency, and stroke identification, as the 910XT does.
The new software update makes tracking the swimming distance and speed possible. If you want to enable this option, simply activate the Swim mode, push start, and begin your swim. Push the lap button when done and the Forerunner 310XT instantly analyzes the time and the GPS information to provide you with the distance tracked and average speed. It's that easy!
Easy Transition
The Forerunner 310XT makes transitioning between swimming and biking simply. When you're ready to get out of the water and onto the bike, the optional quick-release bike mount allows for an effortless switch.
Integration with Cycling
The Forerunner 310XT tracks all kinds of important data about your ride. The bike speed/cadence sensor power devices enable you to track your speed, elevation, heart rate, and distance. All the data is saved on every ride, and it can then uploaded to any compatible software or online application. You can save up to 3 bike profiles at one time.
Long Battery Life
The Forerunner 310XT has 20-hour battery life. This battery will keep you going for the longest triathlon events and then some.  Granted, I have been told that the battery life does decrease over time, based on the experience of some of the athletes I work with. However, the same can be said about any device that uses rechargeable batteries.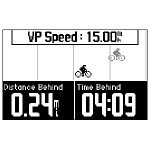 Virtual Partner
The Forerunner 310XT allows you to train against a virtual "person" during your workouts. This can help give you a little added push, similar to when training with a real partner.  In theory, this would assist you in keeping up with a given MPH (or KPH) rate for the ride and then allow you to compare your distance (if you're ahead or behind your targeted pace) so that you can adjust.
To be honest,  I don't personally use this feature. Something about knowing it's a watch and not an actual person makes the feature less motivating for me. (As a side note, you can also find this feature with many of Garmin's other products.)
Other Features
There are more features with this watch than I can cover in detail. However, I will tell you that all the athletes I've worked with that have this watch love it.  When I played around with it myself, I found it easy to use and incredibly simple to sync and upload data with other devices.  What was really cool, though, was that no cable was needed – it synchronized automatically using the ANT+ wireless technology, whenever the Forerunner was in range. The data is accessible anytime you need it.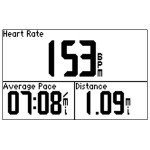 The Garmin Forerunner 310XT also has an advanced calorie computation formula that computes calories burned during activity.  Personally, I find these "auto-calculate" calorie burners to be more of an estimation than a realistic number.  I think they're mainly there for marketing purposes and to add an extra feature to a device, as opposed to being anything useful.
The watch has customizable screens, is compatible with a heart rate monitor (you can purchase it with or without one), offers auto lap and pause-resume, can be connected to the optional foot pod, and can be set for various types of alerts.
What's in the Box
Forerunner 310XT
USB ANT Stick™
AC charger
Charging clip
Manuals
Product Details
Unit dimensions, WxHxD: 2.1″ x 2.2″ x 0.8″ (5.4 x 5.6 x 1.9 cm)
Display size, WxH: 1.3″ x 0.8″ (3.3 x 2.0 cm)
Display resolution, WxH: 160 x 100 pixels
Weight: 2.5 oz (72 g)
Battery: rechargeable lithium-ion
Battery life: up to 20 hours
Water resistant: yes (50m)
Other Features of Garmin 310XT
Offers courses to track previous workouts
Auto Pause pauses and resumes timer, according to speed
Auto Lap instantly begins a new lap
Auto Scroll evolves through data pages during the activity
Multi-sport adjusts to sport mode, with a quick push on the button
Pace alert sends an alarm if you waver from preset pace
Time/distance alert sends an alarm when you hit your target
Vibration alert allows you to pick alert tones and/or vibration alerts
Interval training lets you set up workouts and rest intervals
Pros and Cons of Garmin 310XT
           PROS
Huge screen
Accurate
Fast Satellite acquisition (much faster than the 910XT)
Easy to handle controls
Very popular
           CONS
Heavy/bulky
Does not use a barometric altimeter like the 910XT
List Element
Summary
Overall, this is a quality Garmin product.  Definitely compare features between the 910XT and 310XT.  The 910XT has a few more features, a slicker design, and is a little more accurate at tracking terrain (due to its barometric altimeter) than the 310XT. However, all those extra features come at a cost – some make sure you'll use the extras before purchasing the model!