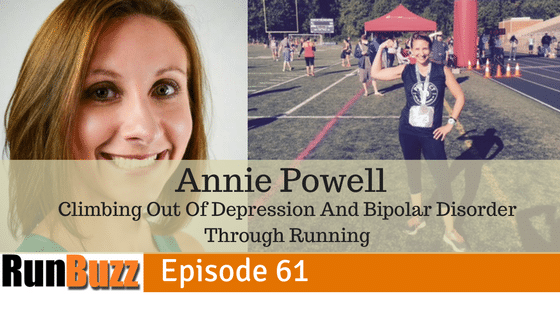 Photo courtesy of: Sweet Memories Photography

Today's guest is Annie Powell. After experiencing postpartum depression after her second pregnancy and struggling with bipolar type II and general anxiety disorder, Annie turned her passion of running and fitness into a tool to help her get her life back on track. Annie does not hide her struggles with mental health, in fact she uses it to help others by sharing her experiences with others through her blog, Own It Daily.
In this episode, Annie shares her personal struggles, her comeback, and her mission to help others who may be struggling with mental illness empower themselves and find the help that they need.  Annie not only shares her powerful message with us today, but we talk about how life challenges and running are interrelated and she shares her tips on how to get through tough runs, whether you are tired, lost your motivation or your mind just wants to give up on you.
Show Notes:
In today's show, we discuss:
How prevalent postpartum depression is and how it most likely is an underestimated number due to the negative perceived stigmas of mental illness. Annie describes the symptoms and onset of it shortly after her second pregnancy with her twin boys in 2010.
How thoughts of suicide and a short trip to the ER helped her realize that something else was going on and that this was not a normal form of depression or fatigue.
How running and fitness has always been a part of her life, however in 2014 after being diagnosed with type II bipolar disorder after a 72 hour manic episode with no sleep, it became a more important form of self care.
How Annie uses fitness to help others who may be struggling with similar feelings and thoughts.
The Runner's High
How running is a metaphor for life and how life can prepare you for the mental side of running, and how running can help prepare you for challenges in life.
Tips for getting through tough runs by changing your perspective.
The time challenges of running and how 'consistency of exercise' can create more efficiency in our lives.
How, as parents we can model for our children healthy lifestyles so that our children have an improved chance of living a healthy lifestyle.
Favorite running moment: Running with her father and finishing a race with her dad.
Favorite running tip:  Don't judge a run by the first mile.  We discuss why it sometimes takes a few miles to really get into a run and to a point where you can enjoy it.
To learn more about Annie, you can contact her or follow her at:
Own It Daily (blog)
Suicide Prevention and Mental Health Resources
If you are struggling or have had thoughts of suicide, please let someone know. There are so many resources that are private and confidential that can help. Here are just a few:
National Suicide Prevention Lifeline – 1-800-273-8255
International Association for Suicide Prevention
Running Resources
Runner's Toolkit – Get access to 30 days of free coaching tips by email and get your #1 running question personally answered by me, just for signing up. Plus get free access to our private Facebook community where other RunBuzz community members gather for support, camaraderie and general shenanigans.
Find out how you can support RunBuzz's mission to bring quality running content (educational, inspirational, etc) to the running community. Did you know it takes approximately 8-10 hours of work to research, record, edit and release each podcast episode? Help support us in our mission to make every runner regardless of age, size and ability a better runner. Your support helps keep future RunBuzz podcast episodes ad-free and new episodes coming.
---