Show notes:
In today's episode, my special guest is, Andy Cloud. Andy is a member of the RunBuzz running community and he walks us through his personal journey on how he underwent a massive transformation in weight loss and as a runner. By cleaning up his diet and becoming more active he went from being 120+ pounds overweight to eventually managing a charity race.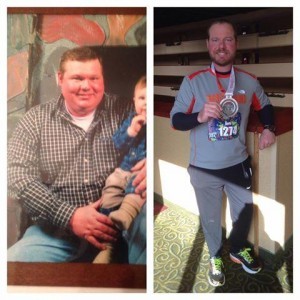 We discuss:
How he got started in running.
His weight loss journey and personal transformation.
How he signed up for his first 5k, trained for it, but then chickened out at the last moment causing him to drop out of running for awhile.
How he got back into running after seeing a runner near the finish line do something incredible just after the bombs went off at the Boston marathon and after his doctor asked him to join a new running group being formed at their church.
How Andy became the reluctant race director to help raise money for Peterson Outdoor Ministries, which helps provide outdoor recreation therapy for wounded or returning vets and their families.
Andy shares some amazing weight loss tips. In fact, I have never even heard of them and when you hear them it makes perfect sense.
Andy's tip on mindfulness and willing yourself to run.
I hope you enjoy this series, and if you would like to share your running journey, please don't hesitate to reach out to me.
Have a great week!
Running Resources
Runner's Toolkit – Get access to 30 days of free coaching tips by email and get your #1 running question personally answered by me, just for signing up. Plus get free access to our private Facebook community where other RunBuzz community members gather for support, camaraderie and general shenanigans.
Find out how you can support RunBuzz's mission to bring quality running content (educational, inspirational, etc) to the running community. Did you know it takes approximately 8-10 hours of work to research, record, edit and release each podcast episode? Help support us in our mission to make every runner regardless of age, size and ability a better runner. Your support helps keep future RunBuzz podcast episodes ad-free and new episodes coming.
---