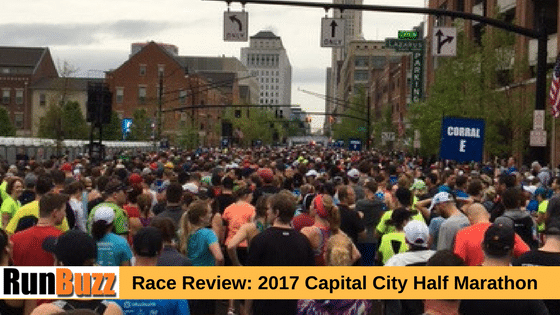 The Capital City Half Marathon (and quarter marathon, 5k) has been on my must-do race list every year since I have started running. Cap City (as the locals call it) is my hometown race and it is put on by M3S Sports which puts a lot of effort into creating high quality race experiences for its participants. The race includes a half marathon, quarter marathon, and the Commit To Be Fit 5k.
While every race has its challenges, this year's race was more so due to event cancellation mid-race. The Capital City Half Marathon usually operates like a well-oiled machine, but this year it came with some challenges. Some preventable. Some not. Having said that, if you are considering the Cap City Half and Quarter Marathon in 2018, it is an absolute must-do race. And show you decide to run it, I'll see you in 2018!
So what did 2017's race bring?
Well, before I get into the details of the race itself which, for many was cancelled early due to heavy storms and lightning, I want to mention that just like in 2016 race,  the 2017 race was home of the USA Track and Field Half Marathon National Championship race.  Your's truly did not win.  I know. Shocker. I do want to give a big shout out and congratulations to the winners:
Leonard Korir (men's division) and Natosha Rogers (women's division).
I started out in my normal spot about 5 or 6 corral letters back where the real party starts and ran the quarter marathon for fun.  Can I give a shout out to Corral F?  We rocked the start.  Truthfully, all corrals rock. Every year the corrals are full of excitement and anticipation for the race. Last year I was in C, and every year I seem to get assigned a new letter. The start of the race is always full of energy and for me, often full of adrenaline. This adrenaline feeling is one of the many reasons I love running.
Probably the easiest way to proceed is to break out this race review by sections:
The 2017 Capital City Half Marathon Expo and Packet Pickup Experience
The easiest place to start is with the 2017 race expo and packet pickup.  The expo was moved from the Columbus Convention Center to a more 'intimate' setting at the Vue, a wedding and meeting center located in downtown Columbus in what is known as the the Brewery District.  While the Vue itself is a nice facility, its size was lacking and for me and many others I talked with, failed to create that big race expo experience. Past expo's were much larger, held in a large conference hall and had lots of vendor space.  Due to its past size, it was not uncommon for the expo to become a meeting space to hang out and chat with other runners.  This year, the vendor space was mostly non-existent. Those expecting to come and spend money on running gear most likely left disappointed unless you wanted to buy official race merchandise.
For packet pickup, the location was adequate and functional, but just lacked that expo feel many have come to expect. To be honest, it felt a step above a running store packet pickup.
I do not know the reason why the location changed. Some speculate it was due to cost and was 'cheaper', but I hope to think that maybe the real reason was that the organizers were looking for a place that was a little more upscale and intimate. If so, it did meet that objective.
Personally, I did not mind the location because while I am not fast on the race course, I pride myself with being fast at packet pickups.  I zip in, grab my stuff, and get the hell out. I think this year's packet pickup was a PR for me, unless you count the time it took to park and walk to the Vue.
I typically do not hang around expos unless I go in the evening which I try to avoid due to crowds. Usually, it is because I have snuck away from work and I just don't have any spare time to shop.  For me, a race expo could end up a lot like a Costco visit. You go in to buy one thing, and you come home with $400 in stuff you really (if your honest) didn't need.  I have 400 rolls of toilet paper in my basement from my last Costco trip to prove this 'Costco' theory and I certainly do not need any more running clothes, headphones, shoes, or body glide.  Well, maybe the body glide.
Expo parking was not as easy as the convention center. While there was plenty of space in the parking garages when I went down, it was also lunch time so a lot of people were out and about. It was also raining which made it even tougher since us Ohio drivers forget how to drive in the rain, snow, and sometimes sun.
I'll lump race shirts into this category since so many judge a race by the quality of its shirts.  M3S Sports usually has the best race shirts. They typically have high quality moisture-wicking shirts that are well designed.  This year, was OK, but not as good as the last few years.  But I get it. For several years, I purchased moisture-wicking running shirts for my running club and I can tell you from personal experience, the type of shirts Cap City provided in the past come at a premium. They are nearly double the price than the cheaper quality race shirts that many other races provide. So I can assure you, if you get a great quality shirt from a race, be thankful. Those shirts are expensive. Having said that, this year's shirt was 'average'.  For me, they are a little clingy when you sweat. I also heard many women runners having issues with the shirt sizes not being as true to size as in past races. Another difficult challenge I learned from past purchases and that is different brands tend to run small when it comes to women's shirts. However, in a race this size, I would have thought that they would have caught that by receiving proofs or samples.  When you have a small running club, you learn the hard way. You find out when you order. The good news is that M3S Sports has a shirt exchange at the expos as well as on race day so in most cases, you can get a properly sized shirt depending on availability.
Packet pickup itself was very well organized. The volunteers were amazing, energized, and went above and beyond to make sure everything went as smooth as possible. Volunteers at M3S events are some of the best I have seen, anywhere. In most cases they are highly motivated, and those on the course cheer you on when you come through.
The gear bag had a nice upgrade this year and was a step above past years or other races. I usually through them away but this years is actually nice enough to keep.  I have plans for using mine to create a runner's go bag for future races with pre-packed items so I can keep everything organized in one place and not have to raid my dresser and closets at 5:00 am on race day. Stephanie, my assistant and co host for the RunBuzz podcast, put together a video a few weeks ago, that I encourage you to check out. It's called: How To Create Your Own Runner's Gear Bag For Races.
Overall grade for expo and packet pickup:  B
Location was the primary reason, I did not rate it an 'A'.  Still, I have no real complaints. Packet pickup and expo for me at least, is not why I get excited about Cap City. Race day is what I get excited about. Let's go there next!
The 2017 Capital City Half Marathon Pre-Race Experience
The weather leading up to this year's race was questionable at best. For days, the weather forecast called for heavy rains and possible storms.  And, the hours leading up to the race included lots of heavy rain and lightning.  I almost slept through the storms, except my dog decided to wedge himself in between the wall and dresser and whine all night, which for a 110 lb dog was pretty impressive considering it was only a 6″ gap.  Anyways, I remember waking up around 4 am, looking at the radar and thinking about turning off the alarm clock and just sleeping in.  Not really, but I thought about it.
Around 4:50 am I started getting texts from friends wondering if I thought the race would get cancelled or not. I decided to check the radar again. Here is a picture of what it looked like: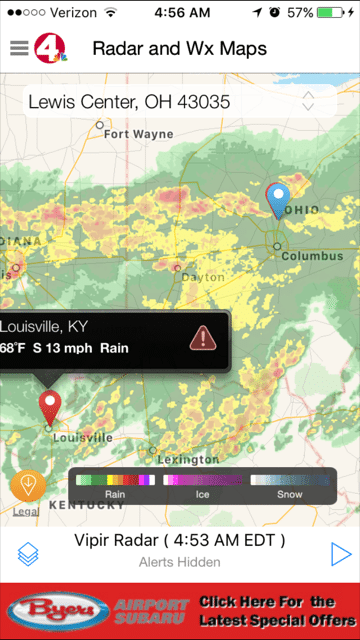 What you can't see from this picture is a small gap in rain that looked to coincide with the race start.  So, I got up, got dressed and headed down to the VIP tent to meet some friends.  I should add that I am not an actual 'VIP', but rather purchased the VIP package so I could enjoy the pre-race food, easy access to Porta potties, have a separate gear check, but more importantly get the post race food, drinks, margaritas, and so on.  A few of my running friends got me hooked on this, so now it is becoming an annual thing. I justify the cost because I don't spend the money at the expo. And, as I get older I find myself enjoying more comforts when the opportunity comes up.
Cap City has one of the best post race parties out there, so why not spend the extra money and get the VIP package.  It also came with a VIP hoodie in addition to my shirt and free parking pass. Unfortunately as we will find out soon enough, the post race party did not happen this year.
For the second straight year, I parked in the Columbus Commons parking garage which is below the celebration area.  I was able to drive down with little traffic and get parked. For many, getting downtown and parked can be tough with all the race traffic.  I went early so I had no issues. This year there was a lot of construction around the downtown area so for those that came later, they most likely had a longer commute than I did.
The rain had stopped just as I arrived and it actually got quite nice for awhile. Here is a picture of a few of us in the VIP tent just before the race: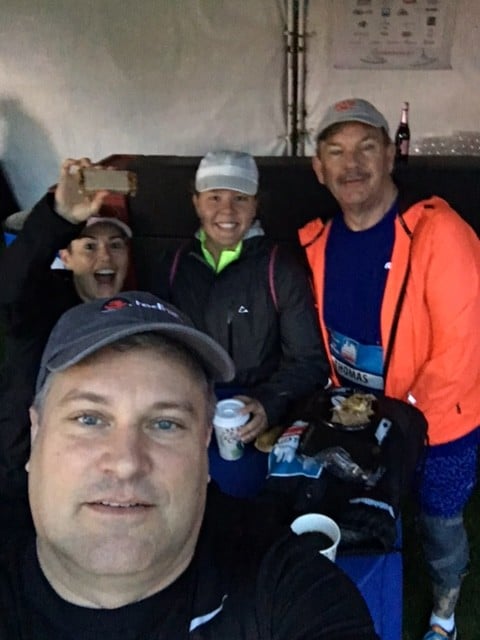 I hung out until about 30 minutes before the race start and then we headed our separate ways to the starting corrals.
To summarize, everything pre-race went better than expected.  The corrals were well-marked and organized and the race started without a hitch.  It was crowded but there was still enough space to move through the crowds. Attendance did seem down due to the weather forecast, but the race was still well attended.
While in the corral, I checked the radar one last time and it looked like we had about an hour and a half before the next line of storms came in. I was hoping the line of storms was just rain, but unfortunately that did not turn out to be the case. I had planned (and dressed) for a cold rainy start, but we managed to stay dry until later in the race. Because of the dry start, I was slightly over dressed with running pants and a long sleeve shirt which was tolerable, but not as comfortable as I would have preferred to be.
Overall grade for pre-race organization:  A+
The 2017 Capital City Half Marathon Race Experience
This next section will be a bit controversial mainly because everyone who participated had a different race experience.  This is my experience so I will write it as such. I am sure some will disagree and that is OK. You are entitled to your own opinions and surely you had your own experience. If your experience was different, I encourage you to provide constructive feedback to the race organizers so the race continues to improve. Some things that did not go well, will only lead to improvement if your experience is shared.
One of the main reasons I decided to write this review was to show some of the things that went well, some of the things that can be improved by the race organizers, but also to be fair to the situation, point out cases where I think some runners went too far with their criticism. Surely criticism in some areas were well-justified, but some criticism I observed on social media was scathing to the point that led me to wonder how these people get through life without someone to wrap them in bubble-wrap and lead them by the hand through life. Some common sense and self sufficiency could have gone a long way on their part. The running community is a great one, but sometimes we get spoiled.
Overall, my race experience was excellent. It always has been with this race.  The spectators and water stop volunteers along the way were supportive and amazing.  Everything was well stocked with water and Gatorade and there was plenty of volunteers as I came through. Based on the storms the night before, it could have gone a completely different way with no-shows but it didn't. The volunteers deserve our kudos because they did go above and beyond to come out anyways.
I ran the quarter marathon and was able to complete the race relatively dry. It started raining just as I reached the finish area. I did see a flash of lightning about a half mile from the finish, so I picked up the pace, because I expected the race to be cancelled once lightning was observed. Up to that point I was pretty much sand-bagging it because I did not intend to 'race' this race. Lightning made my last half mile look more like a race. This Winter and Spring, my training has not been up to snuff due to excessive work travel and poor travel food choices and still feeling like I am coming back from my extended time off due to injury. These are all things I am working on improving for my Fall races.
And then the bad weather hit…
M3S uses a runner alert system known as EAS (Event Alert System).  The EAS system was established back in 2007 by the Chicago Marathon when higher than expected temperatures threatened the safety of the race. The Chicago Marathon enacted a colored flag system, shown below to alert runners to dangerous conditions. This system has since been implemented by many races including Cap City to cover a wide range of emergency systems.  Here is a picture of what each color means: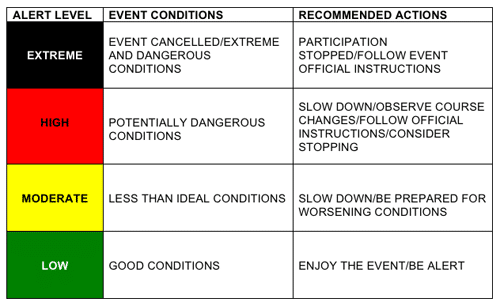 I will come back to this system in a minute because it is important to what comes later especially where some runners provided feedback about poor communication as the event was cancelled. I want this review to remain in chronological order so I will continue and come back to this. But once lightning was detected, steps should have been made to change the flags. This 'may' have happened and if so, I am unaware of it. Based on the number of people on social media, this certainly wasn't consistent. I at least have not heard of a single case where someone did spot a flag that was not green.
Anyways, as I entered the finish area, there were two sides to the finish line corral. One for half marathoners, and another for the quarter marathon and 5k participants.  The finish area was very well organized and well staffed with medical professionals and volunteers to help keep you moving and guide you through the recovery area, including the medal pickup, and water and food stations.
The only thing missing from the finish area for me was Panara Bread's bagels.  Panara has been at the finish area for the last few years. A lot of runner's I talked with mentioned that they were looking forward to the bagels, especially those amazing (but high calorie) Cinnamon Crunch bagels.  Again, not a deal killer folks, because like I mentioned we are creatures of habit and we get spoiled sometimes.  But all the other things you would expect was well stocked and available. This year Cameron Mitchell Restaurants provided food for the VIP area as well as I saw their granola bars at one point in the finish area. Those homemade granola bars were the bomb and the food was in supply and good.
Once you pickup your medal and other goodies, you exit the recovery area and you come out into the celebration area and meetup location where your can meet your family and friends after the race. This area includes a main stage with a band, beer and food trucks (never enough in my opinion) and vendor tents. THIS is what makes Cap City so much fun for me. The celebration. When the weather is nice, it can be a lot of fun.
Also, keep in mind that if a runner is over 21, they get a complimentary beer ticket, champagne ticket (years 2016 and prior), and/or Patron Margarita ticket (2017). Each runner also gets a slice of Papa Johns pizza.  As you will find out in a moment, when the race closed down for safety issues, a lot of runners did not get theirs so there was a lot of griping about this on social media. Yeah, I get it that people paid for it and are upset and it certainly sucks, but weather is not something anyone can control. To risk your life (or others) for a beer or slice of pizza is crazy.
Since I had VIP access, I only took a water and headed to the VIP area to get my gear since the rain was now coming down harder and lightning started to increase.  As I approached the celebration area, announcements from race organizers were asking people to take shelter in the surrounding parking garages, or in buildings. Most runners ignored (or took their sweet time) moving despite the announcements occurring every 2-3 minutes.  More and more runners came in and seemed to hang around under tents or overhangs of buildings, but many just stood out in the open field in front of the main stage or vendor areas. Keep in mind that the lightning is becoming more and more frequent. During these announcements, it was mentioned that by order of the fire department all vendors and volunteers stations had to shut down and the announcements became more urgent and sincere.
After about 10-15 minutes of these type of announcements, the wind and rain really started to pick up. Two nearby and strong lightning strikes was followed immediately by an announcement that the race and all activities was cancelled effective immediately and that everyone needed to leave the area and take shelter.   It was at this point that I had left and headed to the parking garage.  I had previously taken shelter inside the VIP tent, which to be honest wasn't really safe. Tents provide zero protection from lightning. They aren't grounded and they have big metal poles.  There was a 100 of us or so that could have become very crispy if mother nature wanted us to.  Like many runners, we ignored the early announcements hoping the storm would pass quickly.  It wasn't until those two close and very loud strikes of lightning that we packed it in and got out of there. It certainly did not feel safe at that point.
And that wraps up my race experience.
I have zero visibility into what actually happened out on the course other than talking with friends who were out there and through social media feeds. What comes next is what I heard or read from others after the fact.
First, I want to get back to the EAS flag system.  About 1/2 the runners (a guestimate) were still out on the race course when the race was called.  Prior to the race being officially called, the half marathon route was shortened and runners were getting diverted back early towards the finish area. This I know both from conversations with other runners as well as announcements in the finish area.  As the storm approached, it was clear not all runners were going to get back in time.
The most negative race comments came across social media in the hours that followed about what happened as the race was called.  Many people were upset that there was little to no communication going out to the runners who were out on the course.  It is unclear as to how many flags got changed from green to red, to black.  From initial reports it sounds like very few, if any. Most runners found out from police officers shouting at them to get off the roads and onto the sidewalk.  Many runners were confused and left wondering what happens next. The race did send out an inclement weather policy reminder the night before, but no where does it specifically call out lightning.  My guess is, this weather policy will get updated and improved next year based on this experience.
One thing that was clear was that many runners ignored the fact that the race was over. Some refused to take shelter and continued running. I am not going to say that is right or wrong as I am indifferent about it because at the end of the day, I feel it is personal choice.  Runner's still needed to get back to the finish area to meet up with friends and family. Yet, some runners on social media felt the course should have stayed open instead of being forced off the roads onto the sidewalks. If a runner did get struck by lightning, some people would have said the race didn't do enough to prevent it so either way it was a lose/lose situation for everyone involved including the race organizers. To be clear, my opinion (and one that did not have all information so take this with a grain of salt) is that the race should have been called 15-20 minutes earlier than it was. My response to those that thought they should have the opportunity to continue running is that you can't have law enforcement and traffic control personnel exposed in these conditions to keep the roads closed, just so you have a nice marked path to get back. Besides, most runners, myself included are stubborn and if the route is open we probably would have kept going. The easiest way to get people off the course is by removing the course.
Some of the most scathing negative comments came from people who thought the race should have been cancelled in advance similar to what a few other races have done in the past, or that the race should have been cancelled 10-15 minutes earlier (the latter of which I agree with).
So because I am an opinionated old fart, I thought I would give my opinion on a few of these comments as well as provide some perspective (mine) on what I thought should or could have been done better so that we can all learn from this experience. Myself included. There were times I was confused as to what was happening but at the end of the day, all it took was a look towards the sky to know what to do. I didn't need someone to tell me.
Also, keep in mind that my comments are nothing more than opinion and arm chair quarterbacking.  One thing I observed was how rapidly things can go from bad to worse and decisions can take minutes or even 15-20 minutes to fully propagate out and sometimes conditions change faster than the information can be propagated. So before someone trolls me, this is my review and my experience.  This does not mean your review and experience is wrong. I don't know the race organizers at M3S Sports well, but I am familiar with them and I know they have your best interests in mind, and want you to have the best experience possible. Without you, they do not have a business. Therefore, while some feedback was constructive (there are always things that can be improved) some if it I felt was whiny griping.
So, just a few outstanding comments in no particular order:
Use of the EAS Emergency Alert System – From my perspective, and from what I heard from other runners, this is something that needs to be improved on from a race perspective.  Even though there are police at every intersection and it may seem easier to put out a radio call across the communication channel to have police direct people off the street, the flags should still be changed.  If for nothing else, following the protocol set forth.  Since the fire and police department took control,they most likely took the fastest route and just moved people off the course.  For the runners who were confused, my understanding is that their first concern is clearing the streets for your safety, not necessarily giving you an explanation. The EAS Emergency Alert System would have been useful for notifying you that the race was cancelled, but at the same time, the thunder, lightning and being chased off the streets probably should have been enough.
Gear Pickup – From reading the social media posts in the hours that followed, many runners were left stranded when the gear check station was shut down and all gear moved to a local running store, Fleet Feet, which was in North Columbus.  I assume this is true and not misinformation  and if so, was not a great idea. The gear could have easily been moved to the parking garage immediately below the gear check. After all, this is one of the areas where the race organizers were sending people. For some reason I find this hard to believe it actually happened and that hopefully it didn't.  I have heard that medals were distributed out to local running stores so people could at least pick up their medal if they couldn't get it earlier. At this point I am not going to chase this down but I did want to address one thing about gear check regardless of this race or not.
For those of you who keep your keys and phones in your gear back. I suggest you reconsider. First, I highly suggest you keep your phone and keys on you. Use a small running belt. You never know when you may need your phone to call for help and emergency service personnel will often use your phone to help contact your friends and family. In fact here is an interview I did with someone who went into full cardiac arrest at a Disney race and EMS personnel were able to find the victims family by using the phone.  Note: there is an emergency feature on many phones that when set up, allows people to access an emergency contact without the need to unlock your phone.  iPhones have this, not 100% sure about other brands. Finally, do you really want to leave your car keys in a gear bag?  I personally use and recommend a Flip Belt. It can store keys, identification, money, phone and GU/gels, or other small items.
Common Sense – From reading the social media posts in the hours that followed the race, I felt several of the most vocal runners lacked any common sense. At the end of the day, these runners could have been better prepared. They shouldn't have needed a race, the medical director, the police, or the fire department, to tell them to take shelter. Seriously, if lightning is in the area, they can either run on the sidewalk back to the finish area (or wherever they were to meet their family), or go to the nearest parking garage or building overhang. Even if the flags had stayed green, common sense in the conditions we saw should have been their first clue to take shelter. If they want to run back to the finish line, fine, but don't expect volunteers or the police to risk their life. The #1 goal was to clear the streets to get people out of the area and the volunteers/police/spectators out of the intersections. It surprises me that the same people who complained about the race NOT being cancelled, still showed up, and then complained when it was.
Final Thoughts
So a few days have passed since the race, and looking back I think the decision to start the race was a good one.  Due to logistics, the race could not have been postponed or rescheduled like some people suggested. Permits were filed months in advance and safety services personnel were scheduled for certain times. Many of those same police, firefighters and medical staff had regular shifts to go to after working the event. Volunteers as well, most likely had other things going on later in the day. Simply put, the race could not have been delayed until the afternoon due to impact on the city and resources.  These races are scheduled a year or two in advance, come at an incredible cost and logistically are incredibly difficult to put on.  While it seems easy to make a decision when it is just you and I, imagine the difficulty to spread the word out in a situation that is changing rapidly.  Radio and cell phone calls have to be distributed with very clear messages and then propagated out from there. Certainly it could have been better, but logistics (especially on race day) even in perfect conditions can be incredibly difficult. This is something that has never happened before so I don't think we, as runners or spectators, should expect perfection. I know because I feel the same way just trying to organize my daughter's graduation party. I can't imagine organizing a race with 14,000+ people and the couple thousand who volunteer and/or support it.
Looking back, I also feel it was far better to have 'some race' than 'no race'.  As a result many people did get to complete the race and all who started got to get some amount of running in. The USATF Half Marathon race was able to complete and this brings a spotlight to our city. As a slower runner, it sometimes seems that races like this cater to those who are fast. I can assure you that is not the case, but at the same time it is a race for some.  I do feel bad for those who were running their first race. A lot of work goes into training and they certainly did not get the true Cap City race experience that many of us have come to expect. But, live to run another day. Safety far outweighs a slice of pizza, beer or medal. Sure, the flag system and gear pickup could have been more efficient, but at the end of the day, a decision was made to call the race when things got dangerous. Was it perfect? No. Was it needed? Yes!
I do think there is a huge lesson that will make future preparations better and just like running we learn through practice and doing. I will be back in 2018 and I hope you will to regardless of your 2017 experience.
The following two tabs change content below.
Steve is the founder and head running coach of RunBuzz.com. Steve is host of the RunBuzz podcast and founder of
PaceBuilders
, a complete online training program for runners. Steve is a RRCA / USA Track and Field Certified Running Coach and resides in Lewis Center, Ohio.